It was Monday night and although Marble and Grain wasn't my first/second/third or even my fourth choice of places to eat, I had seen an influx of instagrammed photos recently and mainly because it was open, that I asked my friends meet me there for dinner.
When we walked in, I didn't expect the premises to be so big but it expands over several shop fronts and it is a bar on one side and restaurant with a big open kitchen on the other. It is the restaurant for the 5 star Avenue Hotel and it proceeded to become quite busy over the duration we were there considering it was a Monday night.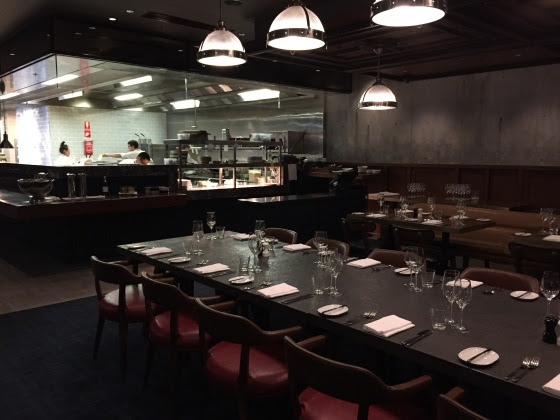 Complimentary bread and butter to start.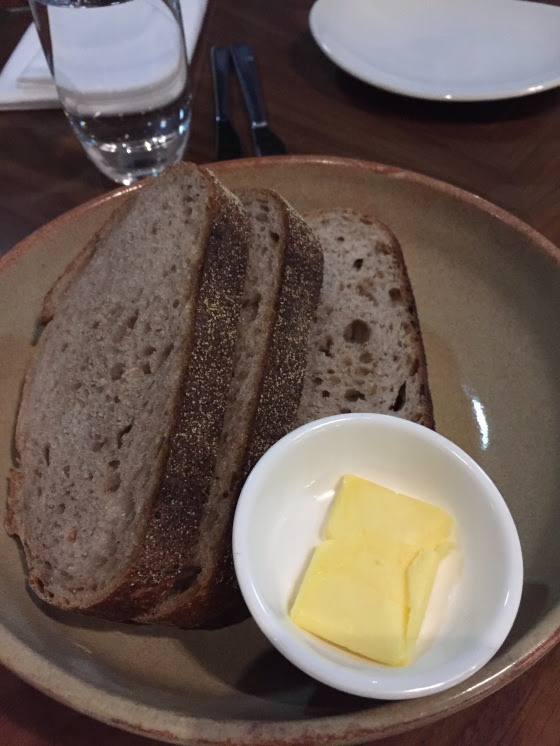 Starters~
Truffle and parmesan arancini served with garlic mayo (5 for $10.00). These were delicious, the inside was cheesy (not that much truffle though), the outer coating was crispy and the sauce went really well with it.
Chorizo corn dogs
with smokey tomato relish (4 for $9.00)
. I would have thought these would have been waaaay more cute if that had sticks piercing through them but I just stabbed my fork through them and dealt with it. The battered coating didn't do much but the chorizo was full of flavour and made up for it and it definitely needed the tomato relish.
Entree~
Seared scallops cauliflower, water cress and smoked chorizo oil ($19.00). While I shared two smaller plates which were the price equivalent of this one entrée, the boys didn't regret their choice at all and I barely sampled any of this dish but TimmyC did give me a bit of the scallops. It was naturally sweet, had a good sear and paired perfectly with the little pieces of chorizo that came with it.
Mains~
12hr braised beef short rib 500g smoked carrots, cavolo netro and herb jus ($35.00).I've had a really good short rib from Temporada and so I had high hopes for this dish, but I found that the sticky glaze felt like it coated the inside of my mouth and proceeded keep going down my throat. The meat itself was very tender and the puree helped to cut through that sticky feeling. Despite being 500g, I found some of that dead weight to be in the big bone that was attached and I was still hungry after my main, lucky for me Timmy couldn't finish his and I helped him out.
The Grill~ all served with paris mash, sautéed spinach, bone marrow and herb jus.
Scotch fillet grass fed 300g ($36.00). Although I have found Chifley's has ruined me for steak at other restaurants, this was really nice and I found it to be the best tasting steak on the table; I probably ate just a little over half of TimmyC's dish. I'm not the biggest fan of bone marrow, I find it too rich even for me, it is like eating really wobbly fat which I don't mind on a steak if it is seared well.
Rib eye steak special 500g ($40.00). My friend was really disappointed about the way his steak was cooked, although he wouldn't let the wait staff know and just complained as he cut through pieces of his steak that was definitely cooked beyond rare as he had ordered.
Sirloin steak Travale pasture fed angus 250g ($36.00). My other friend was also less than impressed with his steak, something between the taste of the meat and way it was cooked just couldn't be compared to the steaks that we had a Chifley's.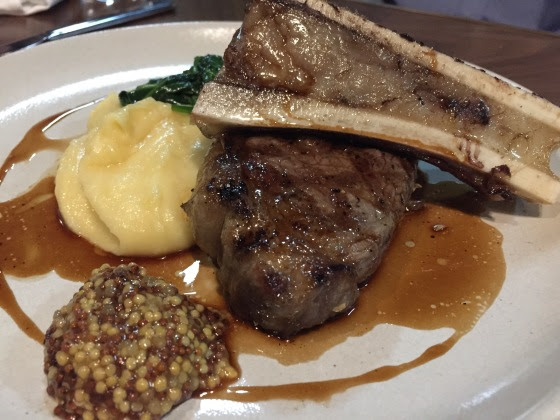 Sides~
Roast sweet corn with bacon salt ($9.00). I know I am constantly disappointed with corn at restaurants but a juicy sweet corn goes so well with so much meat. There was a slight delay with my corn and when I brought it up with my waitress, she said that she would check on it (it was probably forgotten). When she returned she said that she was sorry for the hold up and that the corn would be taken off the bill which I thought was really nice. The corn itself was sweet and was covered in a salt that I wouldn't identify as bacon but was nice nonetheless.
Desserts~
White chocolate brulee berries, basil and roasted hazelnuts ($14.00). TimmyC pushed his dessert forward and asked me and a friend to taste it, without hesitation I dug my spoon in tasted it and spat it out immediately. After confirmation that it wasn't just TimmyC's taste buds and that there was something definitely wrong with this dessert, I called the very polite waitress over and told her that this dessert was utterly salty. She made a puzzled face and was very apologetic, we suggested to get the chefs to taste and we all peered over from afar to see the chef's reaction was similar to ours. They had mistakenly caramelised the top with salt rather than sugar, an easy mistake to do when comparing the ingredients but it had devastating effects in our mouths and I expected an establishment like this not to make that type of mistake. The waitress apologised a lot but we knew it wasn't her fault personally, TimmyC was able to either wait for another brulee to be made or choose another dessert and his dessert and coffee were taken off the bill.
This looked like a 'berry' big mess, I later on found photos of other people's brulee on Instagram it was plated out much nicer than this.
Banoffee cheesecake
banana, chocolate shavings and dulce de leche ($14.00)
. After the debacle of his first dessert, TimmyC had tasted his friend's dessert and decided that this would be his replacement dessert, although after it was given to him I pointed out that the first dessert had vanilla bean ice cream and his had mango which didn't really tie in with his caramelised banana and dulce de leche. I called the waitress over again who was scared something else went wrong, I just told her about the flavours of ice cream and she said that it wouldn't be a problem to give him vanilla bean ice cream and that it was rather delicious and he had to try it. The third plate of dessert was brought to him and TimmyC just wanted it to be good so he could just enjoy his dessert. The caramelised banana and looked beautiful and went very well with the ice cream and dulce de leche, but I found the cheesecake itself a bit bland and out-of-place. TimmyC really liked the pop rocks.
Dark chocolate tart chocolate mousse, honeycomb and vanilla bean gelato ($14.00).
Petit fours homemade delicacies ($8.00). After having one and a half meals, I thought I would be conservative and order the petit fours while also gauging TimmyC's dessert if it wasn't enough. Tonight's petit fours consisted of a chocolate bonbon it was dark chocolate and therefore was really intense and left a slightly bitter cocoa aftertaste in my mouth; chocolate brownie this wasn't decadent at all regardless of its small size, which I found as a refreshing surprise; Turkish delight I don't usually like Turkish delight but I found myself eating most of this morsel and a raspberry in chantilly cream mini tart I saved this for my last bite because of the fresh raspberry which I adore, berries pair perfectly with cream so it was a match made in heaven.
What turned out to be a complimentary flat white coffee.
Despite the sour, or should I say salty note that the meal ended on, I didn't love Marble and Grain because there wasn't anything that made them unique. If you were doing things that were heavily on the meaty side, I expect it to be done really well. The service was wonderful and attentive, the mains are okay but the starters and entrée were the star of the night which only meant the rest of the night went down hill from there. It would probably be a nice place to go for after work drinks and nibbles.
Venue: Marble and Grain
Address: Avenue Hotel 25 Mort Street, Braddon, Canberra ACT 2606
Phone: 02 6246 9555
Opening hours: Monday – Sunday  6:00AM – 12:00AM
Website: www.marbleandgrain.com.au/